How it all began...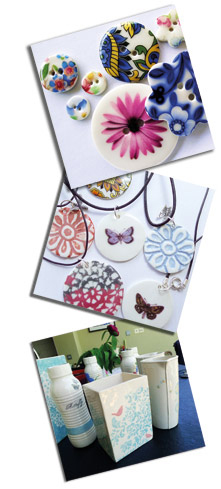 Pottery started as a hobby for me, I'm an engineer by trade but always wanted to do something creative. I've done lots of courses and qualifications at my local college and have built up my knowledge over many years.
Several years ago I took a big step and built a studio. I finally had my own space to work and with my youngest starting at school I was able to concentrate my time on my ceramic work. The business has grown and grown and in the last year I must have made and sold over a thousand buttons.
The buttons I make are well received at shows and have sold well at my only high street outlet, Mrs Moon Yarn and Haberdashery based in Twickenham (www.mrsmoon.co.uk). Now I've finally taken the plunge and decided to offer them for sale online.
When I'm not making buttons I make bigger things, I don't have a specific range or style as I love to experiment and try new things, I guess the thing that connects most of my designs is that they are usually full of pattern and colour!

Love without boundaries...
All the proceeds from this website and my sales are donated to the charity Love Without Boundaries to support children living in orphanages in China. Details of the work this charity undertakes can be found at www.lovewithoutboundaries.com