Beautifu

l handmade ceramic jewellery..

.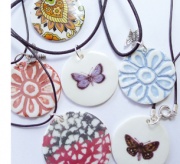 Bright and beautiful ceramic jewellery.

My jewellery is really a spin off from my button production. The items are made by the same process but the holes are in a different place! Every item I make is individually created and decorated by hand painting or applying ceramic transfers.

The standard range is quite limited but if you see a button design you would like as a pendant, earrings or cufflinks then please contact me and I will make it for you.

The findings used for the pendants and earrings are solid sterling silver but the cufflinks are silver plated.

Currently I only have pendants available for sale on my site but should be making more cufflinks and earrings soon.